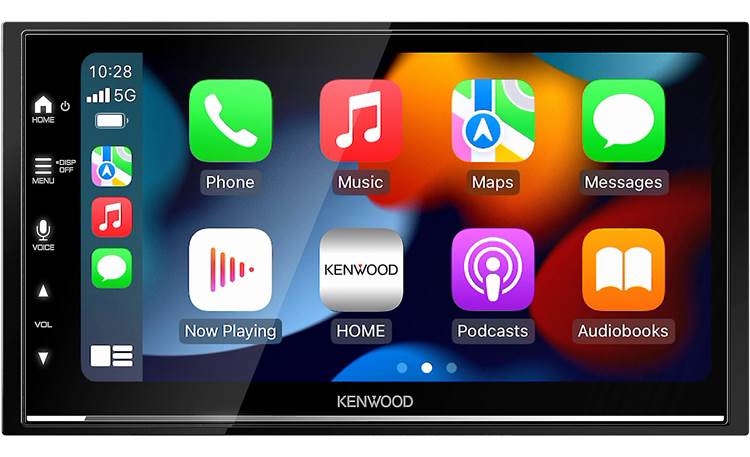 Digital multimedia receiver (does not play discs)
Description
Specifications
Description
Make your phone your copilot
Want the latest music and connectivity options in your ride? Kenwood's DMX7709S multimedia receiver delivers smartphone integration, cool radio options, and ways to connect more gear, so your drive will be safer and more fun. This receiver's 6.75" touchscreen display lets you control your media, including Apple CarPlay®, Android Auto®, screen mirroring for select smartphones, Bluetooth®, and high-res music playback. You can also add amplifiers, up to three cameras, and a SiriusXM tuner to complete your vehicle's infotainment system.
Smart smartphone integration
Apple CarPlay and Android Auto put your phone's content at your fingertips. This stereo's controls behave like your phone's interface, so there's no learning curve. Plug in your Android™ or iPhone®, and you'll get voice control access to your navigation, phone calls, weather, text messages, and of course all your music. Get more info at www.apple.com/ios/carplay and www.android.com/auto. 
This Kenwood's micro HDMI input also lets you mirror the display on your iPhone or Android by using a compatible HDMI adapter (sold separately) and a compatible micro HDMI-to-HDMI cable, such as the Kenwood KCA-HD200. Android owners, you can also mirror your phone's screen on the Kenwood display by plugging into the rear USB port and using Kenwood's free "Mirroring OA for Kenwood" app.
A touchscreen display with total control
This receiver's 6.75″ capacitive display shows all your info in crisp detail and lets you customize the home screen for when Android Auto and Apple CarPlay are not active, putting your favourite sources front and centre. The controls on the left part of the display also offer variable colour illumination, letting you customize the look in your dash. An electronic angle adjustment makes the display visible even in challenging dash locations.
This Kenwood also sports a 13-band equalizer that allows you to set up separate tone curves for different audio sources. Combine that with the built-in digital time alignment processor, and you can put yourself right in the engineer's seat. Five ultra-clean preamp outputs give you flexibility in adding amplifiers to your system when you're ready to pump up the sound.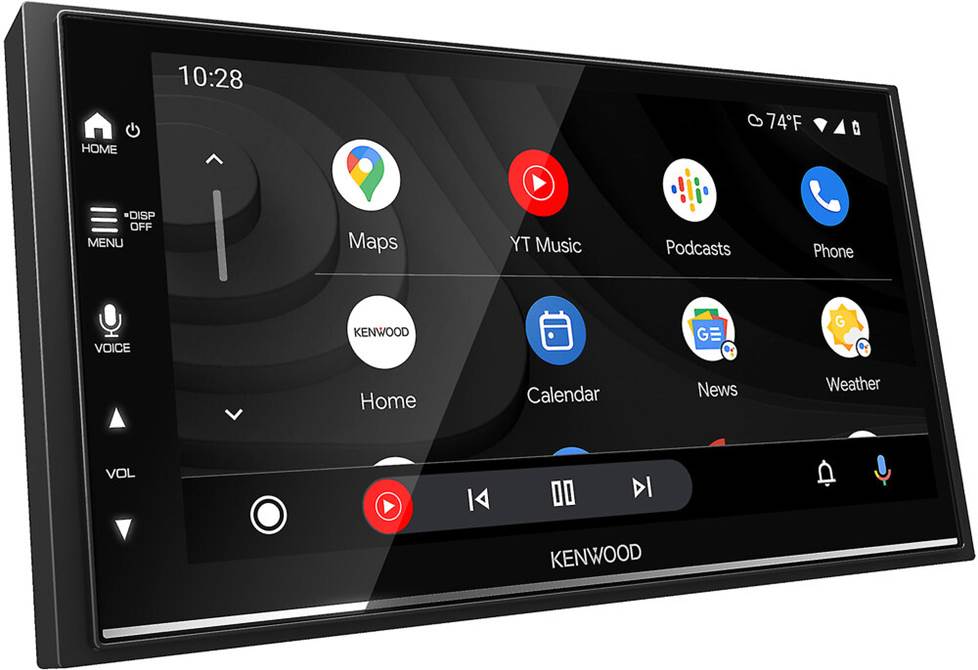 Android Auto (pictured) and Apple CarPlay let you use a familiar phone interface.
Wireless convenience with Bluetooth
Bluetooth enables wireless streaming for music and hands-free phone calls. You can quickly switch between two paired phones — handy for vehicles with more than one driver. Many portable audio players also include Bluetooth, so you can stream your personal music collections while you're on the road. When it comes to streaming audio, Kenwood's Music Mix feature lets you pair five phones so everybody can add their favourite songs to the road trip playlist. 
Tons of media
You can plug your Android phone or iPhone into the rear-panel USB port to engage Android Auto or Apple CarPlay and charge your phone. This port can also handle music stored on a thumb drive, including high-resolution FLAC and WAV music files. You can also add a SiriusXM satellite radio tuner (SiriusXM subscription required) to get non-stop music, talk, and news stations that will stay with you as you cross state lines. If you're staying in town, don't worry — this stereo's sensitive AM/FM tuner will pick up your local stations like a pro.
Video connectivity
The DMX7709S also provides handy video options like two camera inputs, as well as a rear A/V input that can be switched to create a third camera input — great for a side or blind spot camera. If you've got an audio/video piece to add to the system, like a video game console for the backseat crew, you can plug it into this receiver's rear mini-jack or micro-HDMI inputs. To get a video feed to that crew, you can connect an additional monitor to this receiver's video output.
iDatalink Maestro lets you keep your factory extras
Combined with an iDatalink Maestro RR or RR2 interface (sold separately), the DMX7709S includes intuitive vehicle integration that lets you keep factory features that you'd otherwise lose when you install a new radio. Once you've identified your vehicle, you'll see the iDatalink module offered on the way to the Shopping Cart if it's compatible.
Bluetooth note: Use of this receiver's Bluetooth features will depend upon your phone's Bluetooth capabilities. Learn more in our article explaining Bluetooth profiles.
Smartphone note: If you're going to use your smartphone with this receiver, be sure to check "Details" for compatibility information.
Specifications