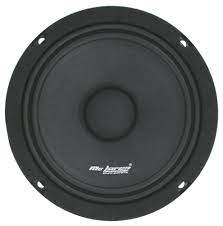 125 RMS 6.5" Midrange Speaker
Description
For car audio enthusiasts seeking an upgrade over traditional, Mc Laren Sound Systems has designed 3 series of midbass & midrange drivers. Depending on size, depth, frequencies you have a wide range of options to suit your listening preferences.
A Series drivers were designed to reproduce frequencies from 80 Hz to 300 Hz, even though capable of extending upward as well.
Strong stamped steel frames, non pressed pulp cones and copper voice coils, available from 6.5″ up to 12″.
Specs:
6.5″ (165.1mm).
125 wts rms, 250 wts peak.
1.5″ Copper voice coil.
4 Ohms.
Y35 Ferrite magnet.
Stamped steel frame.
Freq range: 100 Hz – 6.5KHz
Parameters:
Impedance (ohms) 4
Resistance (ohms) 3.6
SPL (dB) 93.6
FS (Hz) 118.9
Vas (L) 4.6
Qes 0.59
Qms 7.73
Qts 0.55
BL (NA) 8.2
Mms (Grams) 10.3
Cms (mm/N) 0.17
Mounting Depth  2  3/8″
Total Depth  2  5/8″
Cut-Out diameter  5  11/16″