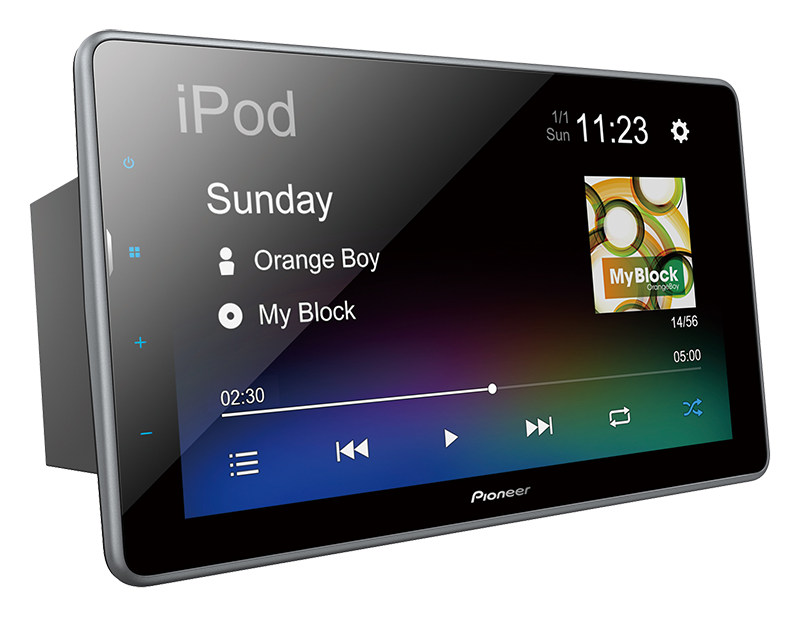 9" Large Touch Screen Multimedia Receiver.
Description
Specification
Description
9″ Large Screen Display
Easy-To-Use High-Quality Capacitive Touch Screen
Pioneer Bass Boost
Pioneer Sound Tuning Features
Built-in 4x50W Amplifiers
Immersive Infotainment System Powered By WebLink®
Seamless Smartphone Mirroring With WebLink® Cast
Power in Simplicity
Experience Power in Simplicity with Pioneer DMH-AF555BT. Equipped with Pioneer's signature specifications, Pioneer Sound Tuning Features, an immersive infotainment system and seamless smartphone connectivity powered by WebLink®, we give you the freedom to experience enhanced in-car entertainment on your terms with the touch of a fingertip. Just touch, customize, and repeat.
9" Large Screen Display
See better, drive safer. Our premium 9" large screen display provides an ultra-crisp viewing experience for all of your visual infotainment features, allowing you to easily follow navigation tools, view messages, and more without distracting you from the road ahead.
High-Quality Capacitive Touchscreen
Are you tired of tapping your in-car display screen but getting no response? Instead, we use an industry-leading capacitive touchscreen with multiple touchpoints for maximum sensitivity. So you can spend less time with your hands off the wheel.
Pioneer Sound Tuning Features
Find the rhythm that moves you with Pioneer audio tuning features that create a studio-quality listening experience in the comfort of your car. Our system features Pioneer Base Boost, 13-Band Equalizer, and Crossover settings, custom-tailored for your musical tastes.
Built-in 4x50W Amplifiers
Power your drive with state-of-the-art sound upgrades. DMH-AF555BT has 4x50W amplifiers that have been factory-fitted to deliver an all-encompassing sound experience from the moment you hit play
WebLink
WebLink converts your vehicle into a connected car, allowing you to safely and easily enjoy your favorite smartphone apps on the go. No matter where you are, WebLink provides you with an in-vehicle experience that is tailored to you.
Navigate With WebLink
Enjoy your ride and get where you want to go. WebLink allows you to access popular navigation apps like Waze and Genius Maps right from the large screen, so you can keep your eyes on the road.
Entertainment With WebLink
Discover entertainment without limits. With WebLink, you can enjoy access to YouTube, your own music and video library, and other WebLink supported applications.
Weather Update With WebLink
Rain or shine, WebLink makes it easy to monitor the weather in real-time. Integrated weather tools help you plan your trip around any weather conditions, so you always arrive safe and sound.
Explore The Area With WebLink
Kickstart your next adventure, explore the area and chart your course all in one place. Access business and service information from restaurants, cafes, shops, can't-miss attractions, and so much more.
Calendar Access with WebLink
Never miss an appointment again with WebLink's interconnected calendar features. Easily view your current schedule and get reminded of any upcoming events, regardless of where the road takes you.
Mirror Your Smartphone With WebLink Cast
Enjoy ultimate flexibility and convenience during your drive with WebLink Cast, allowing you to project what's shown on your smartphone directly onto the large, so you can check messages, notifications, respond to calls, and more.
Specification